There are so many different ways to brew coffee and it's important you try them all to find what way you like best. Trying them all at home can get expensive because they each require different gear so start by trying them out at local coffee shops and once you've landed on a method you're ready to give a go at home refer back to this blog to become your own barista.
Where To Start - Pre Coffee Brewing
Step 1 - Get good quality coffee beans. We highly recommend our Cape Fear if you're into light roast coffee or our Scorpion Bay medium/dark roast which is an absolute favorite of ours. Make sure you also know how to store coffee beans after purchasing them.
Step 2 - Purchase your coffee brewing set up! 
We can make it easier for you by wrapping steps 1 & 2 together! Check out our brewing essentials after you grab some beans and get yourself the full set up for the perfect cup of pour over coffee.
Stainless Steel Coffee Filter
Goose-Neck Stainless Steel Kettle
Cool, now let's get to brewing.
Method #1: Pour Over
Our personal favorite! We love it so much we created a video on how to brew the perfect cup - just follow along.
Method #2: French Press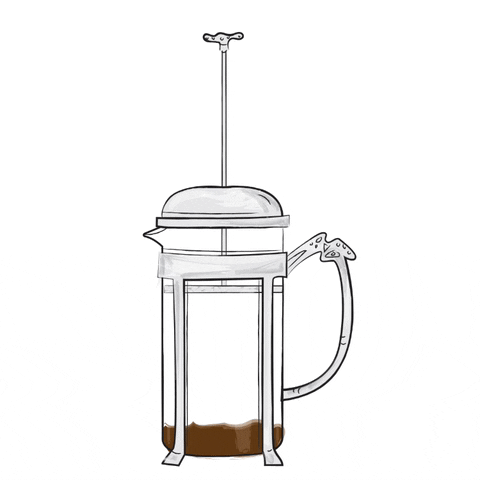 This method is very simple. Just about as simple as this gif makes it out to be!
Start with coarsely ground beans. The key to the French Press is not having really finely ground coffee beans. Once you have that, add 1 tablespoon of the beans to the French Press for every 6.7 oz of water (about 8 tablespoons if you're making a full batch). Then add hot water and add the lid to the French Press. Leave the strainer at the top of the coffee and let it sit for 4 minutes. At 4 minutes press the strainer down and serve yourself and a friend a cup!
Method #3: Coffeemaker
Probably the easiest way to make A LOT of coffee is to make it with a good old coffeemaker. Start by grinding your coffee and getting your coffeemaker all set up with a coffee filter and water. Then add 1-2 tablespoons per 6oz of water. Once you have the grinds in the machine, press go and relax while your coffeemaker does its thing!


There are SO many more ways to brew coffee and if you have a Keurig - we wrote a special blog just for you!
How To Make Keurig Coffee Taste Gourmet
No matter what brewing method you choose, having a foundation of high quality coffee beans will really make or break your at-home coffee experience. If you've never tried our coffee before and are interested to learn more about CBD coffee check out our guide on how to make CBD coffee.


Now go enjoy some coffee, including our favourite Bravo Zulu Brew or better yet check out our promotional bag of coffee or tea.
About the Author
This article was written by Jordan O'Hara, Founder of Windansea Coffee. 
You can learn more about him

 

here.